KEISUKE is the Japanese Ramen Restaurant in Singapore.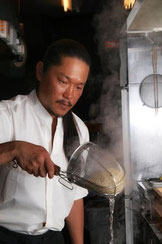 Keisuke Takeda, founder of Ramen Keisuke, is born in 1969 in Hiroshima. Fond of cooking as a child, he started his career as a chef with a French restaurant and worked there for 12 years. He then moved to a Japanese restaurant and worked for 5 years before opening 'Bimisenryu Tanka', a modern Japanese restaurant in 2004.
In 2005,Ramen has much more free space to be innovative and creative compared to other cuisines thus he came up with different approaches to create recipes for ramen that nobody else has tried and tasted before. His first ramen restaurant is called 'Kuro Miso Ramen.The First Generation Keisuke Ramen). The ingredients were mixed Miso base with 7 different types of Miso and Bamboo Charcoal.



$2,200-$2,800/month (depend on experience)
*Experience in F&B in Singapore will be advantageous
---------------------------------
*5.5/6days/week, 10am-11:30pm, depends on the outlet.
 $8/hour
*Beginner welcome
---------------------------------
*More than 4hrs/day, 3days/week
*More than 3 months commitment preferred
*Clarke Quay Only.
*Midnight allowance, no experience required.
---------------------------------
*W.H.:6pm - 5am
5.5/6 Days work week, Full & Part Time
Location : Central & East Area (12 Outlets concepts)
Attractive Salary Package + Incentive
Total leave/year up to 21 Days(Annual Leave +Public Holidays)
Medical + Insurance + Birthday Benefits
AWS + Year end Bonus
Special Allowance after Confirmation
(Singaporean Only)
Meals + Uniform + Training Provided
Fun and Challenging Japanese Environment 
with 12 Different Outlet Concepts
RAMEN DINING KEISUKE TOKYO
#02-391/392 Suntec City Mall, 
3 Temasek Boulevard,
——————————————————
RAMEN KEISUKE TONKOTSU KING
①1 Tras Link #01-19 Orchid Hotel
②60 Paya Lebar Road #01/04 Paya Lebar Square
——————————————————
RAMEN KEISUKE TORI KING
#03-15 100AM 100 Tras Street
——————————————————
RAMEN KEISUKE TONKOTSU KING FOUR SEASONS
158 Rochor Road Bugis Village
——————————————————
RAMEN KEISUKE GYOZA KING
1 Tras Link #01-15 Orchid Hotel
——————————————————
RAMEN KEISUKE TONKOTSU KING MATSURI
80 Marine Parade Road #B1-18A Parkway Parade
——————————————————
RAMEN KEISUKE LOBSTER KING
Clarke Quay - 3C River Valley Road #01-07 The Cannery
——————————————————
RAMEN KEISUKE KANI KING
8 Grange Road, #01-03 Cathay Cineleisure, Orchard
KEISUKE SINGAPORE PTE LTD (Head Office)
80 Tras Street #02-01 ,Singapore 079019
MRT :
Tanjong Pagar (EW15) (3min walk)
---------------------------------------
Bus stop : 
Bef Wallich St/Aft Craig Rd (1min walk)
80/145
Intl Plaza (6min walk)
57/131/167/186/400/402/533/534/535/
536/549/560/564/700/761/970
Aft Kreta Ayer Rd (6min walk)
61/166/197
Hub Synergy Pt (7min walk)
10/70/75/97/100/106/107/128/130/133/
162/196/513/531/589/868
★Interview can be set between 2pm - 5pm, Every Monday - Friday.
Pls come to our office *after registration to apply below.

Please send Email from "Inquiries"  if you have a question.
Please note: The information collected will be for employment and study purposes, and will not be released to other bodies, subject to Singapore Law.