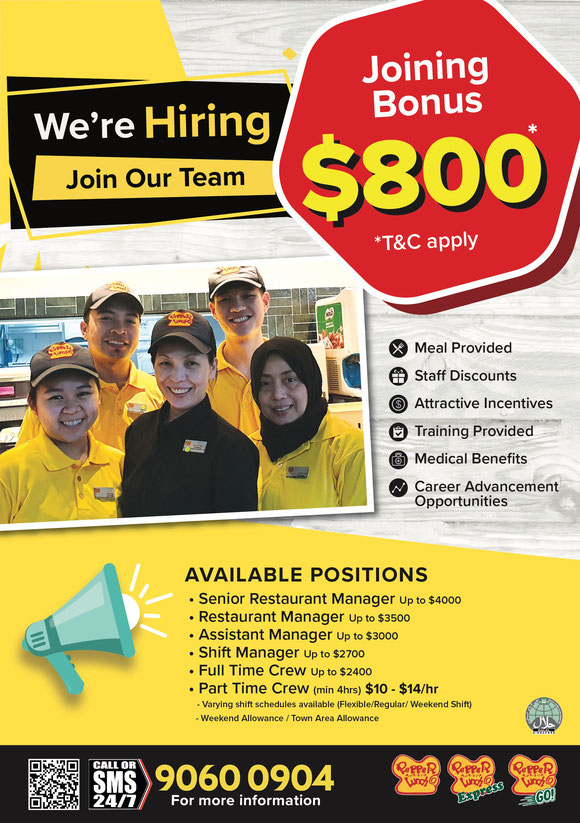 * Monthly gross salary : UP TO $4,000/month
* Min 3 year of F & B relevant experience required
* Monthly gross salary : UP TO $3,500/month
* Min 2 year of F & B relevant experience required
* Monthly gross salary : UP TO $3,000/month
* Min 2 year of F & B experience required
* Monthly gross salary : UP TO  $2,700/month
* Min 1 year of F & B experience required
*Monthly gross salary : UP TO $2,400/month
*No experience needed (training will be provided)
Working hrs : 5days work week – 44 hrs / week
Rotating shift, including weekend & public holidays
•Attendance Incentives
•OT hours
•Medical benefit including insurance coverage
•Annual Leave
•AWS
•Meal provided
•Staff discount
*Hourly rate: $10 - $14 / hour
Working Hrs: 140 hrs / month
•Annual leave
•Medical benefits
*Hourly rate: $10 - $14 / hour
Working Hrs: min 4hrs / day
*Monthly rate: $1,000 / month
Working Days: Sat & Sun – 10 hrs/day
•Training will be provided
•1.5 paid Public holiday
•OT incentive
•Weekend allowance (Fri - Sun)
•City Area allowance
•Meal provided
•Staff discount
To apply to the jobs above
Please click < Apply Now! > below.

Please send Email from "Inquiries"  if you have a question.
Please note: The information collected will be for employment and study purposes, and will not be released to other bodies, subject to Singapore Law.
Interested applicants, please register your apply even if you do not wish to apply for an interview right away.