Himono is dried fish that can be found drying in the sun in fishing villages across Japan. Drying preserves fish for a longer shelf life. It also makes the fish salty and chewy
for a taste that's much loved
Fresh SASHIMI , Japanese traditional Fish BBQ(HIMONO) & many varieties of japanese sake!!!.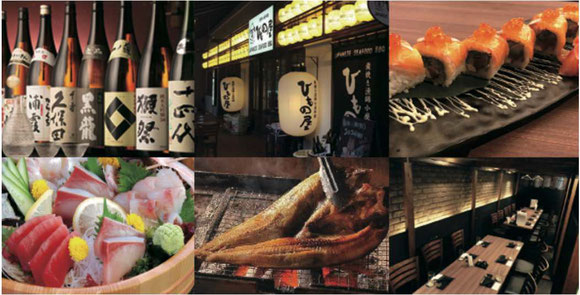 We are currently hiring Service & Kitchen Crew for $2,000-3,500/month .
The shop is located in lively Robertson Quay area, several minutes walk from Clarke Quay Station. If you are interested in joining our team, please click the bottun below and  submit your particulars! 
Full Time Shop (Kitchen/Service) Crew
$2,000-$3,500/month 
*Beginners welcomed
-Work day: 6 days - Only experienced available
(starting at $2,200/month:for for 3 months training period)
-Work hours: 1:30pm ~11:30pm (We don't have lunch time. No given transport)
-Work day: 5.5 days - $2300 (starting at $2000)
If you want more OFF day. We can arrange more flexibly.
-Work day: 5 days - $2000 (starting at $1700)
-Work day: 4 days - $1600(starting at $1400) 
Part Time Shop (Kitchen/Service) Crew
Part Time : Fr $11-$15/hr
*$10/hr during training period
We preferred Part time staff able to work
・More than 3 months
・3 days /week (Especially Fri, Sat and Sun)
Benefits  
- Off on Sunday or weekday
- Annual Leave, Medical Leave, OT, Free Staff Meal
- Salary Increment Based on Performance.
- Hit target bonus
- Every staff is required to help each other in housekeeping, dishwashing, kitchen support and servicing. 
【Location】 
Robertson Walk (Robertson Quay) 
11 Unity Street Robertson walk 02-14 Singapore 237995
MRT Downtown Line: Fort Canning Stn (DT20)
MRT North East Line: Clarke Quay Stn (NE5)
BUS STOP:
Shell HSE/Opp Shell HSE
64/123/143
UE Sq/Opp Mohd Sultan Rd
32/54/139/195/530
 NOTE:At least 3 months commitment required for each job title to apply.
Please send Email from "Inquiries"  if you have a question.
Please note: The information collected will be for employment and study purposes, and will not be released to other bodies, subject to Singapore Law.
Interested applicants, please register your apply even if you do not wish to apply for an interview right away.